Time to assemble our firewall...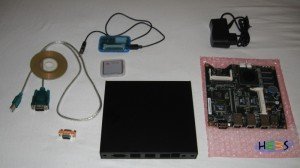 The first assembling step is to completely unscrew the serial screws from the motherboard like the photo below
Now insert the motherboard into it's case ...
Screw the serial screws
Now use the four screws in order to stabilize the motherboard down to it's case and use the rubbers to fill the holes.
Stick the four adhesive pads at the bottom of the case. Do not screw the top part of the case since we want to have access at the CF socket.
In this tutorial we have seen how to assemble from scratch a pfSense firewall with really small effort.
In the next article we will see how to install and configure the software part of our pfSense firewall.