A USB microscope can be useful for electronics or not ?
I was very skeptical before buying this gadget.
Everyone seems to use it for general inspection and not as a real time soldering equipment.
I have seen the excellent review of Todd Harrison which i highly recommend to watch before buying this gadget.
Two main things bothered me : how responsive would be on a fast desktop computer and if the distance between the microscope and the PCB board would be enough for soldering elaboration.
I bought this 800X microscope from e-bay and i must say that i was impatient to see its capabilities.
The package arrived today without a box. It came with a mini CD with the drivers a little stand, a calibration rule , a plastic cover for the lens and the microscope itself.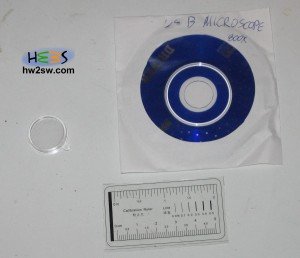 The given stand is without doubt an inspection only stand since the maximum distance between the microscope and the PCB can be few millimeters.
I was aware about that so i made a pretty simple modification.  I have added a 20cm flexible arm.
Some photos are posted below :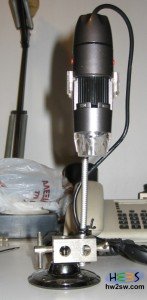 Once done this modification i was able to use a classic "third hand" tool in order to place the PCB board underneath the microscope :
Time for the installation CD.
The CD has a nice auto-run menu :
Drivers worked well under Windows 7 64 bit version. I have also installed the "Measurement" program.
This microscope came with two programs, one called "CamApp" and one called "Cooling Tech" (the "Measurement" program from the menu).
The "Cooling Tech" aka "Measurement" application haven't recognized the USB microscope at all (at least under Win 7 64 bit).
I was forced to use the CamApp application for live microscope inspection.
The two applications are presented below :
Notice that "Cooling tech" aka "Measurement" does not capture the USB microscope but as we can see later you can use it to do measurements from the taken photos with "CamApp".
If you are not satisfied with CamApp you can use the Yawcam in order to get live stream from your USB microscope.
CamApp can take snapshots and video captures. Some demo videos will be posted later in this article.
Once again searching around internet i couldn't find any resource for the drivers so i decided like the UT-61e article to put online the hole installation CD made with imgburn.
Download the installation CD (Drivers & Software) of the 800x USB Microscope from here.
Download, unzip and then use imgburn in order to clone the installation CD.
In the next page we are going to take a deeper view of our microscope.