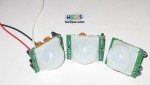 Passive InfraRed Sensors now-days cost almost nothing and can be hooked up to arduino easily.
A PIR sensor can detect motion since it  measures infrared (IR) light radiation from objects in its field of view.
More theoretical informations about the  functionality of this sensor will be posted on later articles.
We will see two slightly different sensors based on the BISS0001 chip.
The datasheet of this chip can be downloaded from here : BISS0001.
The BISS0001  chip has two modes :  re-triggering (H) and not re-triggering (L).
To keep it simple we assume that when our sensor detects motion a red light lights up.
In the re-triggering mode (H) the led does stay on the entire time that something is moving.
In the non re-triggering mode (L) when something is moving  the led goes on and off every second or so.
In the most cases the re-triggering mode (H) is more suitable.
In AHA project we are going to use the re-triggering mode (H) mode.