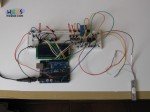 In the first part of liquid filler we have made the user interface.
LCD buttons and circular menu were made.
Now it is time to add the relay and the weight sensor.
We will keep working on our breadboard.
In this article we will see how to connect the relay then our load cell amplified by the INA125 and lastly the modified code from the last time.
It is highly recommended to read the relay article and the weight sensors introduction before you start.
...continue reading "Liquid Filling Machine – Liquid Filler Part 2"